Superuser X Free [Root]
108
Granting Root Access to Your Apps Made Easy
If you want to manage your rooted Android device then this Android root app is a must have for you. Superuser is a useful app which allows you to provide additional access rights to your apps and manage the root capabilities of your Android device. It is a small app which does not occupy too much space but works effectively nonetheless. Boasting of a self-explanatory user interface and a simple layout and design, this app is not that difficult to use. However, it is best to understand the basics of rooting and the effects that it can have on your device before utilizing this app. Do keep in mind that you need to have a rooted device in order to make use of this Android root app.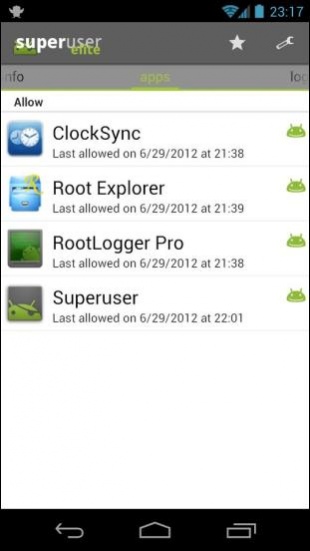 The key feature of Superuser is that it allows you to decide which apps you want to grant root access to your phone. If your Android device is rooted, you will be able to pick the app that is to be granted additional rights. There is an 'apps' section of this Android root app which allows you to manage the apps that have been granted root access to the device. You can see all the apps in here which are currently enjoying root access to your phone. If you want to stop any app from having the additional rights, you can do so from this section of the app. Just click on the app in the list and then tap on the Deny button to revoke the additional rights you have given to it.
Superuser offers various safety features to you as well so that you remain assured that no one is able to grant additional access to apps on your phone other than you. These safety features are located in the Settings menu of the app. You can access this menu by clicking the Settings icon which can be found on the top-right corner of the screen. You can find a number of other options in the Settings menu with which you can configure the app according to your preferences. The premium version of this Android root app offers even more options to you with which you can tailor the app as per your desires.
There is a Logs section in Superuser as well which offers you a report of all the activities that the apps are performing to whom you have granted additional rights. These logs help you in remaining updated about any new app being granted root access without your knowledge or permission. It is important to note that this Android root app needs to be used carefully. If you install it to the ROM of your device then it would become impossible for you to uninstall it. So, make sure that you be very careful when installing the app on your phone and never install it on your ROM. If you have any issues with the app, you can consult the developers and get them resolved.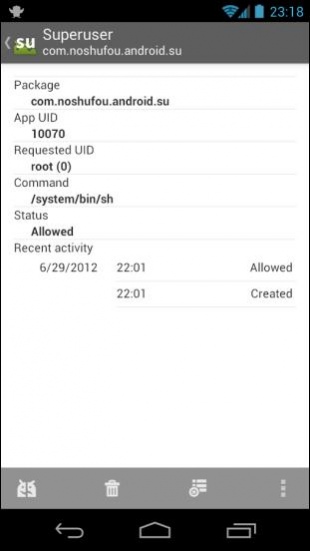 Features:
Self-explanatory user interface
Simple layout and design
Choose apps to grant them root access
Manage root access of your apps
Provides safety features
Option for configuring the app according to your preferences
Logs to keep you informed regarding the app's activity
Conclusion:
Superuser is an app which is aimed towards people who want to give root access to the apps installed on their phones. It enables them to manage their rooted device and decide which apps need to be given extra rights and which ones need to be left alone. It is a nice app to have especially if you already have a rooted device or a custom recovery feature running on your phone.
---
Add a review
Tell us your experience with
Superuser X Free [Root]
108
RELATED PROGRAMS
Our Recommendations
---
---
---
---